Tekst//Hair//Makeup: Jennifer Moi   Model: Marie Standeren  Oslo October 19th 2011
MAKEUP AND HAIR By Jennifer Moi
Inspired By John Galliano and Dior
These backstage pictures are from my test in fashion-makeup at Imageakademiet earlier today. My model, Marie Standeren did a brilliant job and we've already made plans for future projects we'll collaborate on. Marie is studying fashion and is aming for a designer status.
My look is inspired by John Galliano's makeup-design for Christian Dior A/W 2009 – one of my favorite looks of all times. The fashion-test had a duriation of 2 hours and 15 minutes from entering the makeup location to proceeding on to the presentation. I struggled with the time limit, yet I was satified with my work rythmn as I knew I chose a demanding look considering that the hair is made of 500 lus/hair clips. I could have done it better, yet I need to be realisic – as I never styled another persons hair or makeup until first time two months ago.
THE CHALLENGES IN THIS STYLING:
1. Hairstyling takes time.
2. Block eyebrows.
3. To draw new thin straight brows
4. Apply eyelashes
5. Cover a characteristic mole on the midle of the nose
If you like my styling, take a look at my Twiggy-inspired Karoline from the 1960s. For inqueries regarding MAKEUP & HAIR By Jennifer Moi, please send an e-mail to: jennifer@jennifermoi.no.
LIVE VIDEO of my GALLIANO-inspired
F a s h i o n   S h o o t
http://www.vimeo.com/30953111
CHRISTIAN DIOR A/W 2009
Watch the makeup and hair live from FashionTV.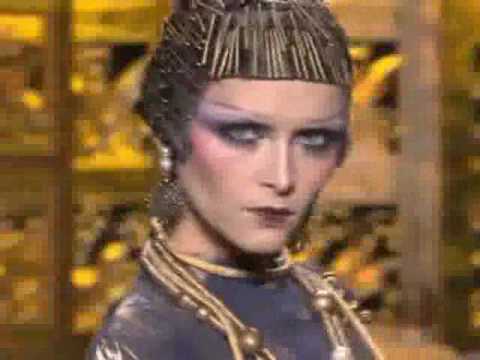 Related posts: